About
F Cross & Son, Doncaster, Yorkshire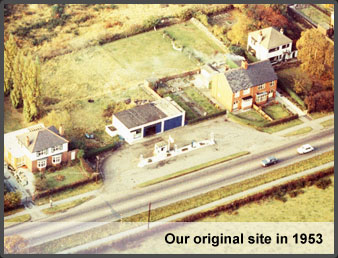 Having over 60 year's experience within the Motor Industry, F. Cross & Son understand that choosing the right vehicle for you can be a difficult decision.
Having operated franchises such as Volkswagen, Lexus, Toyota, Renault and Kia over many years, we are extremely knowledgeable in both sales and aftersales and aim to make your experience as easy as it can be.
Starting from very humble beginnings we have built a well respected and trusted business, the photograph you see is the location we are still at to this day (although things look a little different now)
As a family business our members of staff are like extended family some having joined the company over 39 years ago.
First Joined in:

Shaun Hutchinson – Vehicle Preparation - 1977
Les Byatt - Service Manager - 1979
Chris Marsh- Sales Exec - 1991
Darren Soper - Sales Exec - 1993
Andy Brown - Sales Exec - 2000
Chris Parrish - Sales Manager - 1997
Wendy Steel - Administrator - 1997
Allan Watson – Technician - 2003
Mark Hepworth - Detailer - 2009
Paul Gruszczak - Detailer - 2010
Joe Garcia - Vehicle Technician - 2013 (Newly qualified apprentice)
When you walk into our showroom you will find a great atmosphere with the very highest level of professionalism. We do not put pressure on our customers, we are only interested that you leave our business with what you came in for or you are more informed to make the best decision for you.

Please feel free to browse our website or call in to see us at your leisure.