July 01, 2019 at 2:35 PM
7 Common MOT Fails - Tips On Passing The MOT Test First Time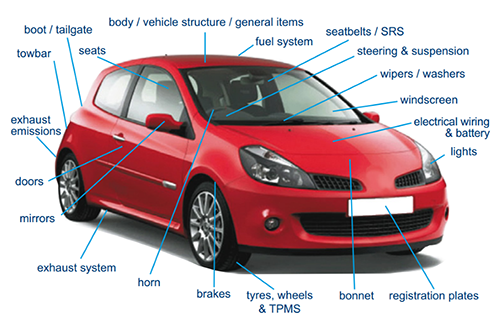 While you're checking the tread depth, you should also check the tyre pressure and that there are no signs of damage such as cuts and bulges. The MOT test will also inspect whether your car is fitted with the correct tyre size and type.
If your car has a tyre pressure monitoring system (TPMS) and was first registered on or after 1st January 2012, this will need to be in working order. The updates from May 2018 now require testers to check if tyres are obviously underinflated as well, but if you check tyre pressure beforehand, you won't need to worry about failing because of this.
3. WINDSCREEN, WIPERS & WASHERS
These three W's all affect the driver's view of the road which needs to be clear at all times. The windscreen can't have any cracks or chips within the driver's eyeline. Most insurance companies offer windscreen protection which you can add to your policy to cover windscreen repairs and replacements. If you have a crack or chip, it's worth checking your insurance policy to see if you have windscreen protection.
Although it seems silly, sat nav or phone holders attached to the windscreen are seen as obstructions to the driver's vision - leaving them in place for the test can cause an MOT failure.
Wipers and washers will both be tested to check they work properly. The washers need be able to spray washer-fluid and be aimed at the windscreen. The wipers need to be able to clear the washer fluid from the windscreen without smearing it or scraping across. It's advisable to top up your windscreen washer fluid before the test.
4. NUMBER PLATE
Both number plates, front and back need to be securely attached and conform to the rules set out by the UK government, including a white registration plate on the front and a yellow one on the back.
They need to be visible and legible in all conditions which means that the registration plate light needs to be working and the numbers and letters shouldn't be obscured by dirt. Before your car goes for its MOT test, make sure to give the number plates a quick wipe over with a damp cloth.
5. BRAKES
The brakes will undergo an efficiency test to check their operation and performance. The tester will put the car on rollers to check the brakes decelerate it effectively and that the car stops in a straight line.
You can often tell when the brakes aren't working correctly because the response from the pedal will start to feel 'spongy' - i.e. not as effective as it once was. Alternatively, you might start to hear strange noises when you brake such as screeching or squealing; or the car will pull to one side when you apply the brakes.
If you start to experience any problems with your brakes, don't wait for the MOT test to flag it up, contact your local garage immediately.
6. EXHAUST
The exhaust system itself will be inspected to ensure it's secure, doesn't have any serious leaks and isn't too noisy. The car will also need to meet certain exhaust emissions standards depending on its age and fuel type.
When the test was updated in May 2018, stricter limits for emissions from diesel cars with a diesel particulate filter (DPF) were introduced, causing the failure rate for diesel cars to rise by 24% in the subsequent three months.
Your vehicle will get a major fault if the MOT tester finds evidence that the DPF has been tampered with or they can see smoke of any colour coming from the exhaust.
If possible, it's a good idea to give the car a long pre-test run at high revs (e.g. on a motorway) to warm the engine up so that it will produce less smoke and is safer to test.
7. SUSPENSION
As a result of the state of the roads in the UK, more than 1 in 10 cars fail their MOT test because of broken suspension parts - almost 700,000 MOT failures are caused by broken or corroded coil springs.
Suspension issues can be difficult to diagnose, but you can try the bounce test. Apply all your weight to the front of the car and bounce it a few times. Take notice of whether it returns back to its normal level quickly and repeat at the back of the car.
Paying attention to any noises your car makes during everyday driving can also signal problems with your suspension. Look out for unusual clunks when you're taking corners or going over bumpy roads.
What Happens If My Car Fails Its MOT Test?
Your car will only fail its MOT test if a major or dangerous defect is found. You'll receive a VT30 form (also known as a 'refusal' of an MOT certificate) outlining the reason(s) for the failure. If the tester finds any minor defects, your car will still pass its MOT, but it's advisable to get them repaired as soon as possible.
MOT tests don't come with a grace period. As soon is it expires, you won't be able to tax the car and it becomes illegal to drive it on the road. The only exception to this is when you're driving the car to a pre-booked MOT test.
If your car fails with major defects only, you can still drive the car under the old MOT certificate as long as it's valid; however, if it fails with any dangerous defects, the car can't be driven again until it's been repaired.
Getting Repairs After A Failed MOT Test
According to the MOT failure rules, you have a number of options regarding repairs and re-testing:
Leave the car with the garage for them to carry out the repairs and have it re-tested there
Take the car away for repairs at another garage and take it back to the original garage to have it re-tested
Take the car away for repairs at another garage and have it re-tested there as well
If the repairs are carried out within 10 days of the original test, the car only needs to have a partial re-rest which exclusively covers the defects that have been repaired. Usually, the re-test is free depending on the items being checked.
If the car is re-tested after 10 days of the original test, you'll be charged for another full MOT. You'll also be charged the full amount if the car fails the partial re-test.
NOTE: If the car is re-tested at another garage, they will likely charge you for a full MOT - even if it's within 10 days of the original test - because they will be testing it for the first time.
MOT Tests At F. Cross & Sons
F. Cross & Sons are proud members of the national Good Garage Scheme will over 700 independent 5* reviews from customers that have used our service centre.
We're a family business and we provide a family-friendly service. When your car is due its MOT, you can choose to:
Have your car collected (from home or work) and returned once the the MOT test is finished
Use our free loan car for the day
Book a 'while-you-wait' appointment
Call us today on 01302 840253 or book your MOT online.