September 16, 2019 at 4:04 PM
How Winter Tyres Work?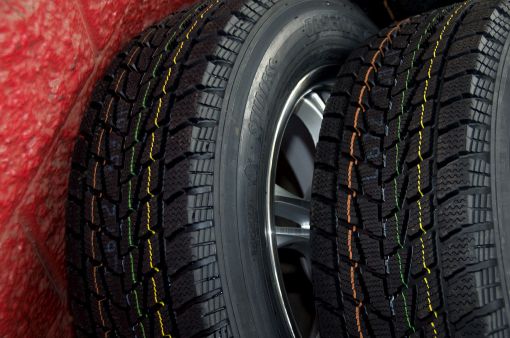 Should you buy winter tyres? How do winter tyres work and do they actually do the job that they're supposed to do?
Winter tyres are designed to work in cold weather temperatures. They work in wet and dry conditions so that the tyres perform better on ice and snow.
How do Winter Tyres Work?
Containing more natural rubber than standard tyres, winter tyres are manufactured so that they remain softer and suppler if temperatures on the road drop below 7 degrees Celsius. Whereas standard tyres would become hard and less pliable, winter tyres are still able to have a solid grip on the road.
An additional key component is silica. Sand-like in texture it provides the runner a biting quality on slick snow and helps with the traction.
A tyre's grip on the road is directly proportional to how malleable it is. A winter tyre's soft rubber treads conforms to the road by splaying and moulding itself around tiny protrusions on a cold road. A standard tyre would harden and be less malleable in cold conditions.
Thousands of "sipe" rows cover the tread of a winter type. They are tiny channels which help to displace water quickly in wet conditions, and grip soft snow easily.
When you are driving through the snow, the top layer of ice melts which creates a thin layer of water. Standard tyre channels tend to clog with snow and become slippery because they lose traction. In addition, if the water isn't moved away from underneath the tyre, tyre will skid or slip. The "sipes" move the water to the sides so that the tyre stays in direct contact with the road.
Rugged Tread Gives More Traction
With various tread designs such as v-shaped and staggered shoulders to asymmetrical and arrowhead, winter tyres appear huskier than their summer counterparts. Each design is manufactured to give you better performance in snow and icy conditions. The tread designs allow the tyre to push away slush that forms underneath your tyre while driving, resulting in better and safer braking and less skidding when you turn at corners.
Winter tyres should be a size or two smaller than your regular summer tyres. For example, if your car came with 21.5 cm-wide tyres, your winter tyres should have a width of 19.5 to 20.5 cm. This decreases the risk of hydroplaning or slipping because now your tyre can slice through the snow as there is less surface area exposed to the tiny film of water underneath the tyre.
Winter tyres have come a long way since they first come on the market. There is real science and tyre engineering behind their design and composition to ensure a safe driving experience. They can be used in wet and dry conditions, handle well and are a good investment if you live in an area with cooler temperatures.