June 19, 2020 at 2:08 PM
Used Land Rover Discovery vs Used BMW X5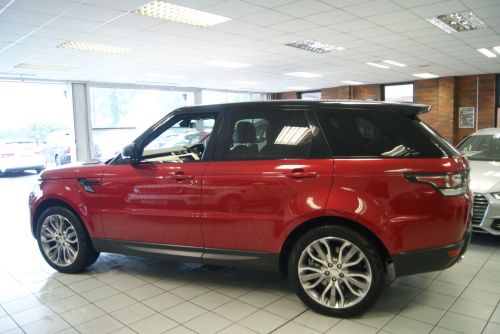 Although there's no doubting their incredible popularity with new and used car buyers these days, what we still regularly refer to a 4x4s are not always what you might think. It would be a lot easier if here in the UK we were more willing to adopt the more American SUV term to describe these high-riding vehicles that are now so popular because not all 4x4s are what the name suggests.
Calling these vehicles four-wheel-drives used to be entirely appropriate as that's what they were, but now they are evolving into something else. Two-wheel-drive variants are now commonplace, and even some of those that have what's correctly referred to as all-wheel-drive can still be a long way from being any sort of real off-roader.
Two rival models that have remained popular since the day they were launched are the BMW X5 and the Land Rover Discovery, but although they are direct rivals in the market, they're actually very different. The X5 is very much an on-road focused model that's available in both two and four-wheel-drive versions, while the Discovery has the kind of go-anywhere capability a lot of so-call 4x4s can only dream about. Let's take a closer look at some of the differences and similarities of these two luxury rivals you might want to consider when buying a used example.
History
The Land Rover Discovery has been around for a decade longer than the BMW X5, and that means there are more different versions of the Land Rover to be found at used car dealers and a greater range of prices. However, it has to be said that an early Discovery is a very different beast to an early example of the X5.
Today's BMW X5 isn't a million miles away from the original version that was launched by BMW back in 1999, but a recent Discovery from 2017 onwards is almost unrecognisable when compared to a 1990s Series 1 or Series 2 Discovery.
While the X5 has always been a reasonably large luxury SUV, the Discovery started life out as a farmer's favourite. The Discovery 3 (2004-2009) and the Discovery 4 (2009-2016) took the Land Rover closer to the X5 in terms of luxury and prestige, but it still retained an off-road-focused element and capability that set it apart from the BMW.
What many people may not realise is the first-generation BMW X5 developed while the German auto giant owned Land Rover, so it actually benefitted from some Land Rover technology such as the Hill Descent System and the Off-Road Management System of the Range Rover of the time.
From the very start, the X5 was a sleeker, more stylish design, while the Discovery stuck with a more functional boxy shape with higher ground clearance to aid its incredible off-road credentials. The X5 could certainly do a job when the tarmac ran out, but it's never been able to match the capability of the Discovery and was never really intended to.
The very latest Land Rover Discovery that you can find used in 2017 versions onwards is a much closer vehicle to the BMW 5 than it's ever been in the past, but it still places greater focus on off-road capability and performance than its German rival.
Engines and performance
You could find more choice of engines under the bonnets of used BMW X5s than you will with a used Discovery, but new buyers voted with their feet and flocked to 3.0-litre diesel versions of the X5 most of the time. The odd V-8 petrol can be found from time to time is all-out performance is more important to you than fuel economy, but petrol versions of the Discovery are very much an endangered species.
Even though Land Rover has always produced petrol versions of the Discovery for the US market, you'd have to look for a rare early Discovery 3 if you wanted one with a V-8 petrol engine under the bonnet. Most Discovery models here in the UK from 2004 until the Discovery 4 arrived featured a 2.7-litre TDV6 diesel, which evolved into a 3.0-litre version in the Discovery 4. A 3.0-litre V-6 diesel is still a popular choice in the current Discovery, but you can now also find them with a more frugal 2.0-litre Ingenium turbo-four.
There's no doubt that the Discovery sacrifices some on-road manners to be able to deliver imperious off-road capability when compared to the BMW X5. The X5 has always had a firmer ride than the Discovery, which is exactly what you'd expect from a more performance-orientated vehicle designed to spend almost all of its time in the urban jungle and very little in a real one.
Interior comfort
You will find X5s with the third row of seats when you're shopping around used car dealerships, but the BMW comes standard as a five-seater with the third-row being an option. With the X5 being a little smaller than the Discovery, some may find the third-row seats a little cramped.
Only the old Series 1 and 2 versions of the Discovery were ever available with five seats, and from the onset of the Discovery 3, the Land Rover has always been a seven-seat vehicle. Both the second and third rows of seats in the Discovery fold flat into the floor for excellent flexibility, but the BMW has always had the edge when it comes to style.
The interior of the Discovery 3 and Discovery 4 could be a little utilitarian in lower-spec variants, but higher trim levels are a lot more luxurious. The latest Discovery is much flashier and more luxurious than ever, but the upgrade is certainly reflected in the price.
The interior of the BMW X5 has always been very German, so it doesn't have anything you don't want or need. However, every X5 interior oozes quality, style and comfort, and the optional passenger and driver seat upgrades can deliver a level of adjustability and comfort that's hard to beat. It's smaller inside than the Discovery, but the X5 has a different agenda and has never pretended to be the most utilitarian model in its class.
Conclusion
As the years have passed by, the Land Rover Discovery has moved more and more towards the BMW X5 in terms of being more stylish, luxurious and prestigious. The X5 was a winning formula from day one, and BMW has continued to refine and improve it over the years without doing anything too radical with it. There's still probably an extra air of prestige about being seen in an X5 than you get in a Land Rover Discovery, especially the boxier Discovery 3s and 4s.
If, however, you want a spacious, flexible SUV that can get you and up to six passengers up a mountain or across a ploughed field, the Discovery is the clear winner. On the other hand, if you want that luxury SUV look but in something that handles and performs more like a car, you'll have to go some way to beat a good used BMW X5.