February 17, 2021 at 2:16 PM
Kia Sorento Frequently Asked Questions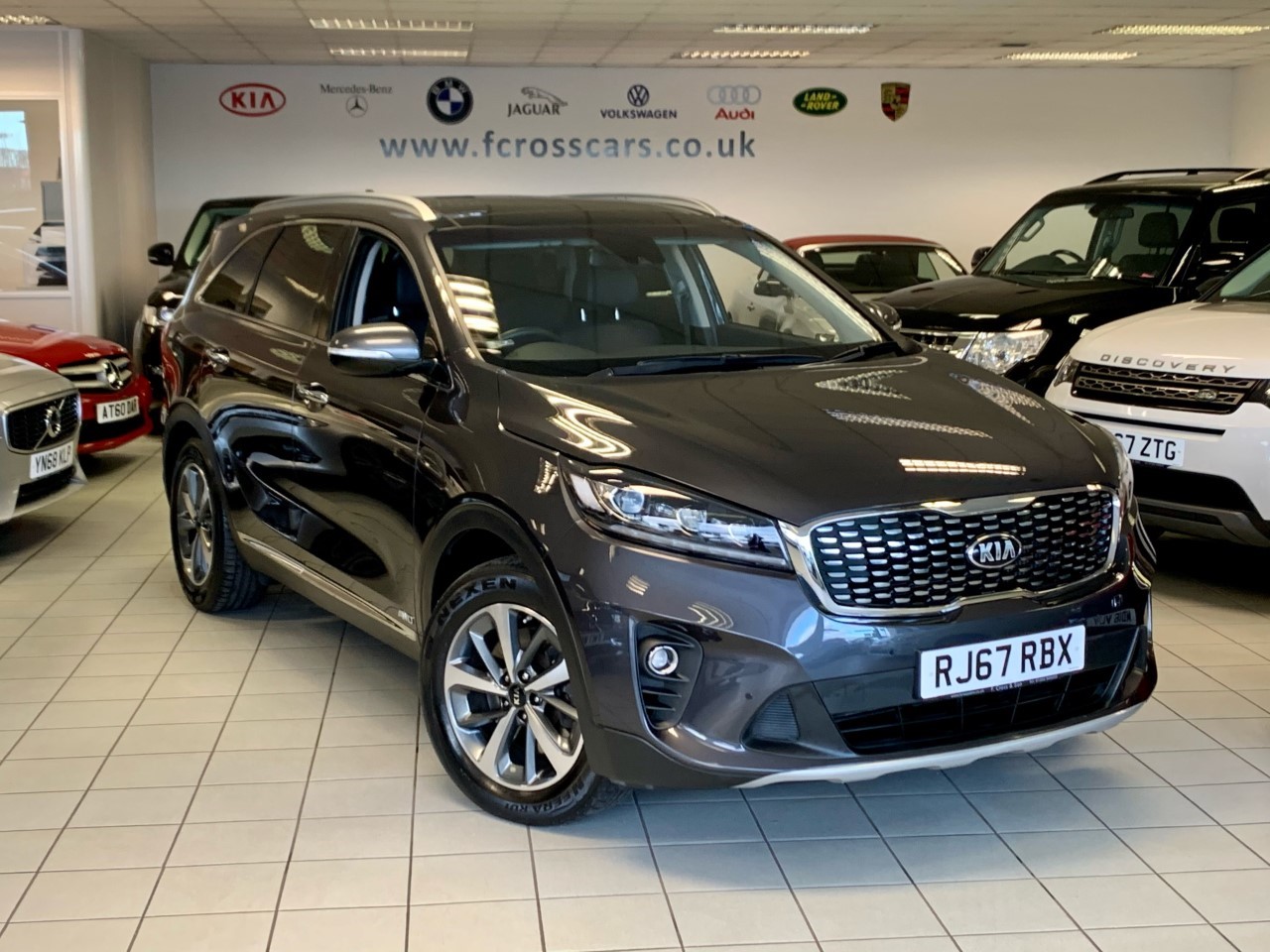 The Kia Sorento is a three-row large crossover SUV that's now in its fourth generation. The first Sorento went into production 2002 as a smaller SUV than the current model and at that time it was built on a traditional ladder-frame platform. It turned into the large SUV we know it as today with the arrival of the second-generation in 2009 that introduced Kia's new design language, as well as many new features and technology that soon found their way into other models in the Kia family.
A third-generation came along in 2015 that further refined the Sorento, and now we have a stunning fourth-generation with cutting-edge styling and engines that live up to the promises made by the sporty, futuristic exterior styling. There's little doubt that latest Kia Sorento is a real head-turner, but here are answers to some of the questions you might have about the Sorento when you want to know more about this fabulous SUV.
How many seats are there in a Kia Sorento?
Most of the Kia Sorento models you'll come across these days are firmly in the three-row, seven-seat section of the SUV market which helps makes them superb vehicles for families, or anyone wanting to transport up to seven people from one place to another for that matter. This wasn't always the case, however, the earliest models only had five seats and a third-row seat was introduced as an option for second-generation models.
Later versions of the Kia Sorento are exclusively seven-seater, although there is the option of swapping the second-row for a pair of captain's chairs in the most current versions which then reduces the seating capacity to six.
What engines are available in the Kia Sorento?
Although the very latest Sorento can be powered by a diesel, a hybrid or a plug-in hybrid powertrain, most of the used model's you'll come across keep things much simpler with just a single diesel engine powering all trim levels. The 2.2-litre turbodiesel engine favoured by Kia for the Sorento over the years has been developed and refined over time, but it's always been a strong performer.
For example, if you are looking at a 2015 Kia Sorento you'll find it's powered by a 2.2-litre CRDI diesel engine that develops 197 bhp and 440Nm of torque. It has to be said the 0 to 60 mph time is somewhere between 9 and 10 seconds, so it isn't exactly rapid, but the Sorento isn't aimed at buyers who crave face-melting acceleration. It's that 440Nm of torque that matter with a vehicle like this as it propels the Sorento with ease even when fully loaded with passengers and/or cargo.
Earlier examples were available with a 2.0-litre CRDi engine producing 147 bhp, but these are easily identified as they are also two-wheel drive only and with five seats rather than seven. The more powerful engine option for those early models was a 2.5-litre CRDI but it wasn't as powerful or as efficient as the 2.2-litre unit that replaced it in 2015.
Is the Kia Sorento fuel efficient?
It's fair to say the 2021 Kia Sorento is pretty fuel-efficient for such a large, capable vehicle thanks to its combination of diesel and hybrid powertrains. Models with the standard 1.6-litre hybrid unit are rated at 40.4 mpg (low), 47.9 mpg (med) and 48.7 mpg (high), while diesel models have an overall fuel economy rating of 42.2 mpg. The plug-in hybrid version of the Sorento comes with a weighted combined fuel economy rating of 176.6 mpg because it's capable of running purely on electric for a limited period.
Don't assume older models are gas-guzzlers by way of comparison though. Official combined fuel economy ratings for the 2.2-litre diesel can be as good as 49.5 mpg, which really is good for such a large and capable vehicle. Fuel economy will vary depending on the transmission, but the difference between the eight-speed auto from 2018 onwards and earlier seven-speed automatic models is more apparent when it comes to emissions.
Is the Kia Sorento all-wheel-drive?
The good news for buyers is there's no such thing as a front-wheel-drive 2021 Kia Sorento so you don't have to worry about paying any extra for the additional capability of all-wheel-drive. Every 2021 Kia Sorento is standard all-wheel-drive regardless of which powertrain was chosen. It's been like that since the 2015 model was introduced, so if you're looking to buy a 2015 or newer model you will be getting all-wheel-drive with the Sorento.
What's the cargo capacity of the Kia Sorento?
Due to it not having to accommodate a battery pack, the diesel version of the 2021 Sorento has the greatest cargo capacity. With the third-row folded away, diesel models have 616 litres of cargo capacity, self-charging hybrids have 608 litres and the plug-in-hybrid Sorento offers 604 litres. Fold the second-row away for maximum capacity and those numbers increase to 2011, 1996 and 1988 litres, respectively.
Third-generation models offer up to a maximum of 1662 litres of cargo capacity, and the model before that was smaller still with a maximum of just 1546. Like many of us, the Sorento has grown a little over the years, but with the Sorento, that's probably a good thing.
How much can a Kia Sorento tow?
With this being the kind of vehicle plenty of people will want to tow a caravan or other trailer with it's important to know how much the 2021 Kia Sorento is rated to tow as the three powertrains are rated differently. The lowest maximum braked trailer weight rating is for the Sorento PHEV at 1500kg, the middle of the three is the self-charging hybrid version with a maximum rating of 1650kg, but the one that can tow the most is the diesel with a maximum 1650kg.]
If you want a Sorento capable of towing more than that you can have it, but it will have to be an older model. Second and third-generation versions of the Sorento are capable of towing up to 2,500kg. However, that figure is for models equipped with a manual transmission as automatics are rated at 2,000kg.
What kind of warranty does the Sorento come with?
manufacturer's warranty runs out. Most new vehicles these days still come with a 3-year/36,000-mile warranty or similar, but the Kia Sorento is in a different class in this important area.
Every version of the Kia Sorento since around 2007 has come with a spectacular 7 year or 100,000-mile warranty, but that's only the start of what makes this warranty such a compelling reason for buying a new Sorento. If you keep your Sorento you have seven years of 100,000 miles (whichever comes first) of worry-free driving, but that class-leading warranty is just as useful to you even if you don't keep your vehicle for anything like 7 years because it's fully transferable.
That means that if you want to sell or trade your Sorento after before the warranty expires, the new owner will inherit the remainder of the original manufacturer warranty. So, if you look to sell your Sorento after three years you'll be advertising a vehicle that still has a longer warranty left on it than most vehicles have when they're new from the factory.
As long as the Sorento you are looking to buy is less than seven years old and has fewer than 100,000 miles on the clock it will still be covered by the original manufacturer warranty, and that's hard to beat.
Is the Sorento well-equipped?
There's no such thing as a badly equipped version of the latest Kia Sorento these days and it's pretty much been like that since the launch of the second-generation. Even the entry-level 2 trim today comes standard with the likes of 17-inch alloy wheels, dual-zone climate control, heated front seats, a heated steering wheel, adaptive cruise control, and all the infotainment goodies you could wish for.
Older models obviously won't be as well-equipped as more modern versions of similar trim levels as some features we take for granted today weren't even available a few years ago. However, if you're buying a used Sorento you can always look for a higher trim level as used high-spec vehicle like that can be extremely good value for money.
Is the Kia Sorento good value for money?
The Kia Sorento is outstanding value for money in its class. It's obviously not a cheap SUV, but it is an awful lot of large, three-row, 7-seat SUV for the money. The list of standard equipment that includes all-wheel-drive, seven-seats, great engines, fabulous infotainment and stunning styling makes a great case for considering the Sorento over its rivals, but that incredible 7-year/100,000-mile warranty has to be what puts it at the front of the class.
Third-generation models from 2015-2020 can be especially good value for money as they look every-inch the modern family SUV but they're obviously more affordable than a brand new example. Now there's an all-new fourth-generation in dealerships the previous generation is now even better value for money.
If you're in the market for a stunning seven-seat SUV at an attractive price that doesn't compromise in any area and also comes with a class-leading warranty, it's about time you took a closer look at a Kia Sorento.